TRANSDISCIPLINARY SUMMER STUDIO 2021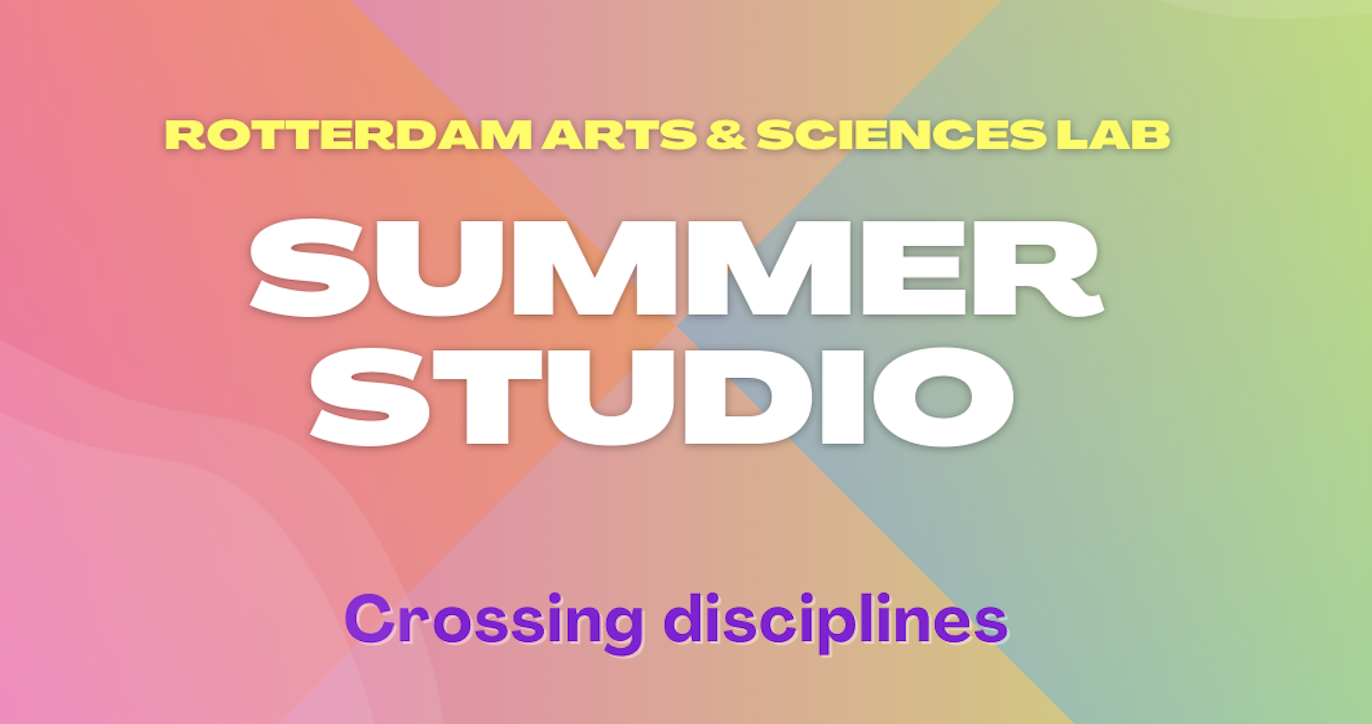 RASL TRANSDISCIPLINARY SUMMER STUDIO is a ten-day transdisciplinary workshop for researchers, artists, designers, writers, directors, performers, curators, filmmakers, composers, producers, community artists, game designers and coders.
Would you like to immerse yourself in co-creating scientific and artistic approaches to contemporary concerns?
The Rotterdam Arts & Sciences Lab (RASL) is holding its inaugural Transdisciplinary Summer Studio to further advance education and research beyond the arts and sciences. Transdisciplinary Summer Studio relies on collaborative compositions between the arts and sciences to identify, question, and disrupt existing disciplinary boundaries. The Summer Studio is a step in the development of RASL's future Master program, an addition to RASL's esteemed education and research portfolio, which already includes a successful Dual Degree program and an award-winning Minor (30 ECTS) within the Bachelor programs of RASL partners Codarts, Erasmus University Rotterdam, and the Willem de Kooning Academy.
Participants with backgrounds in the arts, sciences, humanities, and/or technology will collaborate with social partners, artists, researchers and experts to engage with the summer studio project.
SUMMER STUDIO WORKING THEME AND SCHEDULE 
Hidden Talents: Inequality of opportunities and unfulfilled potential among children and young people, especially in the city of Rotterdam.
Research indicates that students in the Netherlands need more and more diverse educational opportunities to do justice to their capacities and promote their development. What are some of the systemic issues that need to be tackled to address this inequity? Can a collaborative transdisciplinary approach to this societal concern produce artistic and scientific insight, ask new questions, offer new experiences, and proposals?
Schedule 
9-11 July /groupwork on location
Presentations by stakeholders
Research cycles
Co-creation-sessions
Experiments
Concept-development
Guest talks and coaching
12-15 July /work in sub-groups/optional on location
Research
Preparing experiments
Production
16-18 July /group work on location
Presenting experiments
Feedback sessions with partners
Co-creation sessions with partners
Rehearsals, production time
Presentation
Practicalities 
Participants will be offered the space, time, examples, insights, and tools they need to develop a collaborative approach to transdisciplinary research, practice, and reflection. Participation is free of charge, but spaces are limited. Any travel and lodging expenses are the responsibility of the participants. See below for admission requirements.
Led by three educators from the RASL consortium: Arlon Luijten (theater director, game designer, researcher) from Codarts, Robin van den Akker (cultural philosopher, writer, researcher) from Erasmus University Rotterdam, and Vivian Sky Rehberg (writer, art historian, researcher) from Willem de Kooning Academy-Piet Zwart Institute.
Admission requirements

Participants have a Bachelor Degree in a relevant field, are entering the final year of a BA Programme, or have equivalent professional experience.
Participants have a background in the arts, sciences, humanities, and/or technology;
Participants should submit a CV including website or portfolio links, and a written or audio-visual motivation for participation indicating: why you? us? why now?);
Deadline for submission: June 20th, 2021